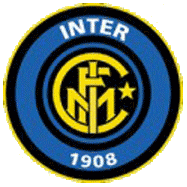 Nickname(s): The Cherished, The Big Grass Snake (huh?)
All-Time Ranking: 2nd
2007/2008 Finish: 1st
2008/2009 Position (as of 04/07): 1st
Coach: Jose Mourinho
Key Players: Javier Zanetti, Zlatan Ibrahimovic, Dejan Stankovic
History:
Inter is the second best side in Italian soccer history and recently they have been the best in Serie A. Their trophy mantle is fully stocked with 16 league titles, 5 Coppa Italia wins, 2 European Cup championships, etc. etc. They have also had some of the world's best players, including two Ballon d'Or winners (Ronaldo, Lothar Matthaus).  
The current team is dominating the 08/09 campaign and is nine points clear of its nearest competitor as of the 30th week. How could they not though with so many stars? At the helm, the squad has Jose Mourinho ("The Special One"), who is one of the most brilliant tactical minds in soccer today and has the team ready to win its 4th straight title.
American Sports Doppleganger:
While Inter is undoubtedly the most dominant Italian side today, they still have not been as historically successful as Juventus over the long haul. Thus, I think Inter is like the LA Lakers, with the Boston Celtics (who have more titles than the Lakers) playing the role of Juventus. Also like the Lakers, Inter can always seem to put on a good show.