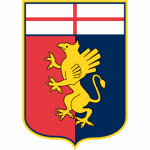 Nickname(s): The Red-Blues, The Griffin
All-Time Ranking: 12th
2007/2008 Finish: 10th
2008/2009 Position (as of 04/07): 4th
Coach: Gian Piero Gasperini
Key Players: Marco Rossi, Rubinho, Alberto Diego Milito
History:
Genoa is the oldest active soccer club in Italy, having been founded in 1897. The squad established the first dynasty of Italian soccer prior to the formation of Serie A by winning nine national championships against a small handfull of teams. Since 1911, the team has played in the historic Stadio Luigi Ferrais, one of Italy's best fields. 
Genoa has never been a powerhouse side since Serie A was founded and ended up in Italy's third tier in 2005 after a match-fixing scandal rocked the team. Genoa has fought back though and is now on the brink of earning a place in next year's UEFA Champions League. They need to keep winning though to hold on to their spot in that tourney.
American Sports Doppleganger:
Genoa is the oldest squad in Italy, but it has actually never won a Serie A title because its best days came before the league came into existence. Therefore, I will compare them to the NFL's Cleveland Browns, who won many past national championships prior to the formation of the NFL, but have never hoisted a Super Bowl trophy.